Southern California Planning Congress
Event Summary – May 2014
An Aqueduct Runs Through It:
A Series on the Future of
California's Water Supply
In cooperation with the California Center for
Land and Water Stewardship, Cal Poly Pomona
Part 1 – Our Water, Our Lifestyle
The Next Hundred Years of
the Los Angeles Aqueduct


Barry Lehrman, MLA, MArch, ASLA is the Project Director of the Aqueduct Futures Project, and an Assistant Professor in the Department of Landscape Architecture at Cal Poly Pomona.  He spoke to the event guests on water issues concerning Southern California, focusing on the history of water delivery to California, the aqueduct system and its environmental hurdles, and the future of development and resources in the State.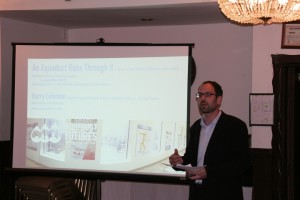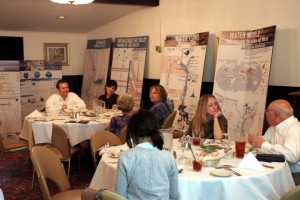 The size of the aqueduct system and the area it draws water from is astounding.  Almost 490 square miles of land is owned by the City of Los Angeles, via its Department of Water & Power, in the Owens Valley where Bishop and other communities are located.  This area is larger than the City of Los Angeles itself.
The water level of Owens Lake began noticeably and consistently dropping as early as the year 1890. The local Payutes population drew the first water in the mid-1800s.  In 1928 the Metropolitan Water District (MWD) was formed and the Colorado River Aqueduct was created.
The City of Los Angeles, from 1781 to 1940, approved 83 separate annexations of land.  Then, after 1940, 292 additional annexations were approved.  LADWP is a major landlord and natural resources manager for City property in the Owens Valley.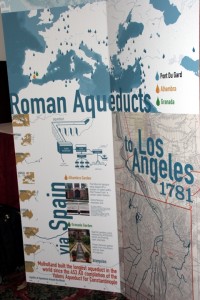 More water efficiency practices are needed, but much goes to wasteful agricultural irrigation practices. The Bureau of Reclamation does not do a beneficial job of reclaiming water.
More efficiency in water usage also translates to power savings, as up to 20 percent of power in California is used to transport water. Desalination is not the only option, as it also uses a lot of power, and it is not our way out of a water shortage. Grey water recycling would consume 10 percent of the energy of ocean desalination.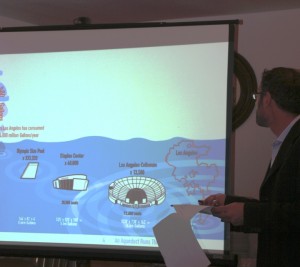 To help direct future use and operations of the aqueduct and the surrounding City land area, an Aqueduct Master Plan is proposed that would focus on multifunctional uses for the land and region.  The concept of 'Aqueductsheds' was introduced, dealing with the system much like a river watershed system. The area owned by the City of Los Angeles for the aqueduct system could be the largest city park in the World. It could be a 'national park' rivaling Yosemite.
For more information, visit the Aqueduct Futures project web site.

Event Summary – "Our Water, Our Lifestyle – The Next Hundred Years…"