This event has passed. 
The Southern California Planning Congress
invites you to this event.

An Evening with
Governor Michael Dukakis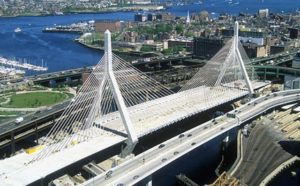 Leonard P. Zakim Bunker Hill Memorial Bridge – Boston, MA –
Part of the Big Dig, the largest U.S. highway project.
Tuesday, January 24, 2017
Meet and Greet at 6:30 p.m., Dinner at 7:00 p.m.
Taix French Restaurant,
Bordeaux Room:
1911 West Sunset Boulevard, Los Angeles, CA 90026

Michael Dukakis continues to champion excellence in governance as a professor at Northeastern University and UCLA, public transit proponent, and advocate for urban America.  He served two terms as Governor of Massachusetts and was the 1988 Democratic nominee for President. Infrastructure priorities are finally part of the national dialogue and will reshape the form of cities such as Los Angeles and Boston in the years to come.  Interact with Governor Dukakis as he shares his perspectives on best practices in local, state, and federal leadership, and transportation planning and implementation.
Our guest speaker:
Governor Michael Dukakis
JD, Harvard Law School, 1960; Distinguished Professor of Political Science, Northeastern University; Visiting Professor, the Luskin School of Public Affairs, UCLA, current; Governor, Commonwealth of Massachusetts, 1975 to 1979 and 1983 to 1991; and Democratic nominee for President of the United States, 1988.

DINNER MENU
Dinner entrees include fresh French baguette, soup du jour,
mixed greens with house vinaigrette dressing.
With one of the following selections:
Steak Frites au Poivre –
Grilled skirt steak (served medium rare) with black peppercorn cream.
Roast Duck a l'Orange –
1/2-duck marinated and slow roasted in oranges.
Fresh Filet of Salmon –
Grilled and served with a champagne sauce.
A vegetarian option is available upon request. 
All with sherbet and coffee or tea.


REGISTRATION AND PAYMENT
Cost: $45 general public, $35 for students with ID

This event is passed. 
On-line registration is closed. 

Download the Event Flyer
(If you did not receive the event email)
On-site registration (by check only) is an additional $10 and not guaranteed.
After the registration closure date, refunds will not be provided.
This event is eligible for 1.5 hours of AICP Certificate Maintenance Self-Reporting Credit.
In partnership with the the Los Angeles Section of the American Planning Association.

Questions?
For further information contact Bob Fazio at (626) 765-4036 or at
rjfazio@mac.com
.
Also, visit our Facebook page and click the "like" button to receive future updates as they are posted.
You can also follow us via Twitter for updates.
Thanks to Governor Michael Dukakis for the Jan. 24th Event!