Thanks to all of our speakers, panelists, attendees for a great event!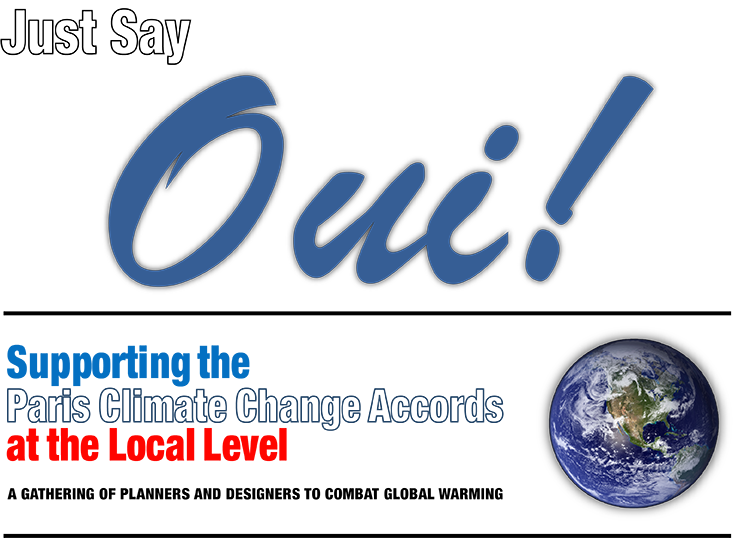 Saturday, April 14th 
9:00 AM to 4:00 PM
PRESENTED BY:
KEYNOTE SPEAKER:
Stefanos Polyzoides
Architect and Urbanist
Co-Founder, Congress for the New Urbanism
Co-Author, "The Ahwahnee Principles for Resource-Efficient Communities"
LOCATION AND COST:
All Saints Church
132 North Euclid Avenue
Pasadena, CA 91101
$50 General / $20 Students
5 CM credits pending / 5 HSW credits
Lunch is included
All Saints Church is convenient to the Metro Gold Line Del Mar Station and Pasadena public parking facilities.
INFORMATION AND PROGRAM:
Join us for a day-long summit aimed at bringing together planning and design professionals around local climate action. The purpose is to build a coalition and strengthen networks and resolve in supporting US legislation and worldwide cooperation. The day is meant to be fun, inspiring, and interactive. Participants will explore best practices at the local level, discover ways to connect, and continue their commitments to climate justice and sustainability. 
The program is as follows:
WELCOME
Dr. Jerry Mitchell, JD, Professor, Cal Poly Pomona (Emcee)
Mayor Terry Tornek, City of Pasadena
OPENING KEYNOTE
The Rev. Mike Kinman, Rector, All Saints Church
MORNING SESSIONS
Big Picture/Big Sky
-Bill Bogaard, Past Mayor, City of Pasadena (Moderator)
-Mayor John Heilman, City of West Hollywood
-Dr. Bill Patzert, Climatologist, UCLA / NASA's Jet Propulsion Laboratory
-Michelle Boehm, Southern California Regional Director, High Speed Rail Authority
-Meg Cederoth, Sustainability Director, WSP
Climate Change at Ground Level
-Felicia Williams, Planning Commissioner, City of Pasadena (Moderator)
-Mark Gangi, AIA, Vice President, Gangi Architects
-Claire Latane, Senior Associate, Studio-MLA
-Claire Robinson, CEO, Amigos de los Rios
NOON KEYNOTE
Stefanos Polyzoides, Architect and Urbanist 
Co-Founder, Congress for the New Urbanism 
Co-Author, The Ahwahnee Principles for Resource-Efficient Communities 
AFTERNOON SESSIONS
Interactive Training: How to Talk About Climate Change 
Kristina von Hoffmann, Outreach Director, Climate Resolve/Path to Positive LA
TED-Style Talk: Standards: Dogma or Pragmatic Evolution?
Deborah Deets, Landscape Architect, Los Angeles Department of Public Works.
TED-Style Talk: How to Reduce One Car Trip A Day
Dr. John Lloyd, Pasadena Complete Streets Coalition
Drawing on Drawdown:  Next Steps in Local Communities
Group Discussions / Reporting Back
CLOSING RECEPTION
REGISTRATION:
Registration is closed.
PARTNERS:

SPONSORS:

MAKE SURE TO FOLLOW US!