Southern California Planning Congress Event – November 2011
"The Future of Union Station:
Who's On Board and Where Are They Going?"
Meeting Summary
Project links:
The event began with a meet-and-greet in the Champagne Room at Taix French restaurant on Sunset Boulevard, before the presentation on the Union Station project.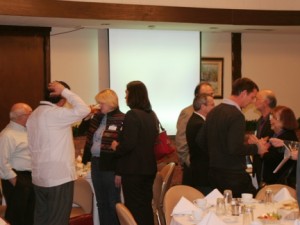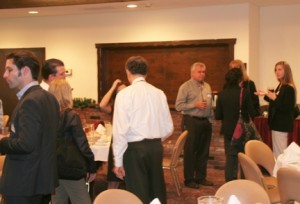 SCPC President, Dr. Julianna Delgado, opened the program by welcoming everyone in attendance and following dinner, introduced the evening's speaker, Mr. Calvin Hollis, Executive Officer of Countywide Planning and Development for the Los Angeles County Metropolitan Transportation Authority (Metro)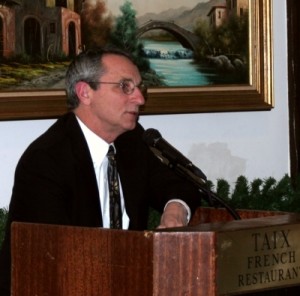 Mr. Hollis is one of the state's leading authorities on redevelopment financing and has influenced successful public/private urban investment throughout California.  
After the presentation SCPC Vice President for Programs, Bob Fazio, provided some closing comments.
From the presentation, we learned about the scope of the forthcoming Union Station Master Plan and its focus on preserving the historic Union Station facility with additional focus on infill and reuse within designated parcels on the site.  Metro recently purchased Union Station from its former owner, Catellus, the real estate arm of the Burlington Northern Santa Fe Railway.  Metro now owns the historic buildings, the Metro Headquarters building, all of the planned development pads, and the railroad tracks from the platforms to the Los Angeles River.  Reuse of the adjacent former Denny's restaurant parcel is also within the planning area. 
Ever wonder why the Metro Headquarters parking garage is so difficult to navigate?  Two development pads are located on top and the internal walls and columns were designed to support future buildings.
Mr. Hollis stressed that regarding future development plans, nothing is set in stone and nothing is "off the table,"with one firm exception, and that is the preservation of Union Station itself . Another item that needs to be considered is access by a future California High Speed Rail line.  The Plan would not necessarily rely on this project but it must facilitate a direct connection.  Other station improvements could include two-way rail access or a second level of platforms.  Union Station was not designed to handle multimodal transportation, nor was it designed to handle the current high level of pedestrian traffic resulting from an expanded regional transportation network. 
Progress on the project can be followed through the Metro Union Station project web site at:
http://www.metro.net/projects/LA-union-station/
In early December, a nationally organized Urban Land Institute Advisory Services Panel will convene to provide strategic advice regarding land use and planning policies for the area immediately surrounding Union Station and the master plan site. For more information, please visit the Urban Land Institute Union Station web page at:
http://www.uli.org/CommunityBuilding/AdvisoryService/Advisory%20Panels/Content/UnionStationCA.aspx.